The exciting next phase of this Catholic Adventure. I'd love for you to join me!
---
After doing the consecration to Jesus through Mary, I wanted to do some service to God and the Blessed Mother and put myself at their service. So in 2017 I started my blog "The Catholic Adventurer". It has gone through some evolution over these past six years: I migrated to Substack, built a readership, developed a following on Twitter (Now X), have produced a ton of content (writing, graphics, videos, and now podcasts), especially over the past year. The work has never been about me (fame, fortune, preferences). It has always been about you­—about making saints.
But a lot has changed since I started my mission, and things are about to change yet again. It's good, positive, very exciting, but a little scary, and I hope you'll decide to come along for the ride. I'm planning a new adventure, and I want you to share the 'experience.'
History
"I've been keeping my promise to God, but here is where things get bumpy." 
I started this mission in 2017. But in January 2023, I decided to take my apostolate and its mission more seriously. I had come to recognize that God created me to be a Catholic communicator. Not just by skill and experience but by nature. It's who God created when he created me, and it's what God formed by bringing me through the trials and experiences of my life and career. He didn't create or form a musician, an artist, or an engineer. He created me to be a Catholic communicator. That has been the theme and charism of my whole life (since I was young!). Recognizing that, I made a promise to God that I would be the communicator he made and formed; to take ownership of my "being" and to be more active in my online ministry. I've been keeping that promise, but here is where things get bumpy.
The Next Chapter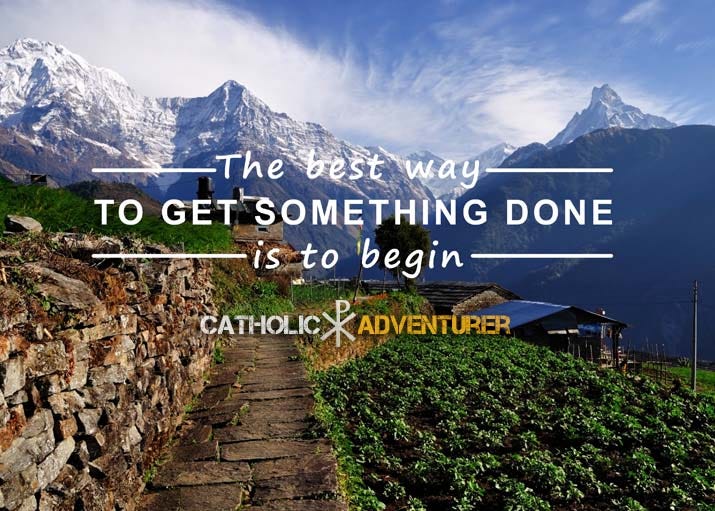 It's time for the next phase or chapter in my mission to make saints, and I would really love for you to join me. I'm taking "saint-making" to a new level, and I'm calling it The Catholic Experience. I will be converting my apostolate from a predominantly blogging/writing ministry to a predominantly podcasting ministry with supplemental writing/blogging. The podcast series will be available only to paid subscribers to Substack or subscribers to my channel on X/Twitter (My application for subscriptions on X/Twitter is still pending, so this is assuming it gets approved).
The Catholic Experience will essentially be a subset of my "Catholic Adventurer" mission—making saints by diving deep into the lived experience of the faith and giving you a fresh perspective and a new appreciation for this Catholic adventure. It will feature interviews with priests and other notable people who can speak authoritatively about things like sacraments, moral theology, liturgy, saints and how their causes are investigated (You could be one of those some day!), metaphysics, the intersection between body and spirit, and more. The podcast is intended to empower you and inspire you to charge forward to holiness.
The podcast will be supplemented and complemented by blogs and articles, mostly for subscribers, but some will be free. I'm also considering producing video monologues, but I haven't decided whether to do that or not. On X (Twitter), there will be the additional benefit of subscriber-only posts, reactions to events in Catholic news, and so on. I want to make this a rich experience for people who are paying for it. Some of the content will either be free or portions/segments of it will be made available for free. But most of the content will only be available to subscribers. No need to decide between subscribing to X or to Substack, as 98% of what I provide to X subscribers will be mirrored here on Substack, technology permitting. If X doesn't approve my subscriptions application, then the new Catholic Experience will only be found here at Substack. Still consider following me on X though.
My Substack subscription is $5/month. Most people spend that much on a cup of coffee. Will you spend at least that much on something that could make you holier?
Please Consider:
-I work extraordinarily hard on this ministry (Substack, my blog, and on socials) for exactly zero dollars and zero cents. But the value of my work is not $0.00. Is it worth at least five bucks?
-A worker is worth his wage, and having lost my job, I can no longer afford to do this work without a wage.
-I have a family to support mouths to feed. Your subscription is supporting a family, not a hobby.
-I'm not doing this for the money; I'm doing it because I so believe in YOU and I want to help to make you saints. It means everything to me. It's the entire point, purpose, and motive behind my mission since 2017, when I started my blog. But I have reached a point where I really need to bring in some money, and this is the only thing that I do well and am able to "sell". Is it worth $5?
I have big plans for the future. I hope that Fiat Media and ChurchCaster.FM really take off, and I feel strongly that God wants them to. I also feel that God wants me to put my skills to work here in my personal ministry, but he knows I can't afford to do that for free. He has spent a lot of years crafting the communicator and evangelizer I have become. I have almost no talent for anything else—this is the one talent he has given me, and he has provided it in abundance out of His generosity. I'm grateful for it. It's the only thing I can market. Now, is it worth five bucks a month to you?
Let's "adventure together ." Join me for the Catholic Experience. I'll be publishing content for it starting in a couple of days. Please pray for me, for my mission, and for my family.
Ave Maria, Virgo Fidelis!
Follow me on Twitter! If you want to follow me on Substack Notes, that's for subscribers-only. So consider subscribing to my Substack below.